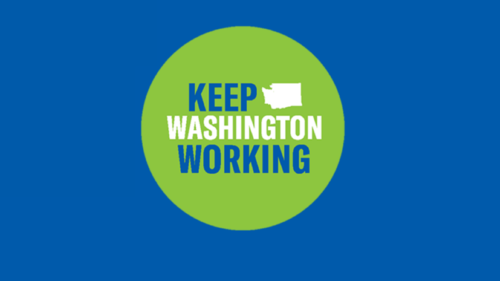 2019 Landmark Civil Rights Law Protects Immigrants & Washington's Economy
Keep Washington Working SB 5497
In 2019, the Washington Legislature passed the Keep Washington Working Act, enhancing public safety, promoting fairness to immigrants, and protecting the privacy and civil rights of all Washington residents. Nearly one million Washingtonians (1 in 7) are immigrants. In numerous counties, a majority of children live in mixed-status homes. Immigrants are an integral part of our communities and workforce. However, federal agencies such as U.S. Immigration and Customs Enforcement (ICE) and Customs and Border Protection (CBP), have been relying on local law enforcement resources in order to investigate civil immigration violations, diverting local resources and taxpayer dollars away from local public safety issues and discouraging people from contacting first responders. The new law was signed by the Governor on May 21, 2019, and went into immediate effect. It repealed RCW 10.70.140, which previously required jails to collect and report information to immigration authorities. Now, the law requires that law enforcement and jails in particular to change their practices and policies to ensure the privacy of all Washingtonians.
The law applies to Washington State Patrol, all county sheriff's offices, police departments, jails, Department of Corrections (DOC) and school resource officers. They are now prohibited from:
Routinely asking about and collecting place of birth, immigration status, or nationality, unless doing so is necessary for an ongoing criminal investigation.*
Stopping or detaining someone to determine immigration status.
Giving ICE/CBP non-public information personal information (eg. home address).*
Allowing ICE/CBP access to interview people in custody about civil immigration violations. If ICE/CBP has access, the person in custody must provide written consent before ICE/CBP can interview them.
Holding people on ICE/CBP detainers or administrative warrants.
Notifying ICE/CBP when someone will be released from custody.*
Denying someone services, benefits, privileges or opportunities due to the presence of an ICE detainer, notification request, or immigration warrant.
Accepting free interpretation and translation services, or language classes from ICE/CBP.
Entering into agreements with immigration agencies to perform immigration enforcement duties (eg. 287(g) agreements).
Entering into contracts with immigration agencies to detain immigrants for ICE/CBP (eg. Intergovernmental Service Agreements (IGSAs) to rent jail bed space).
*DOC is exempted from these provisions.
Additionally, over 20 state agencies, including the Department of Licensing (DOL) are required to review their policies and practices to ensure they collect the minimal amount of personal information from people in Washington, and that the information collected is not shared with immigration agencies unless required by law. It also requires that services be provided regardless of immigration status, unless required by law.
Washington's Attorney General's office  conducted the review of state agencies. It also created model guidelines for law enforcement in order to follow the new restrictions above.