BECOME AN ORGANIZATIONAL MEMBER OF WAISN!
From time WAISN was formed in 2016, we have accomplished powerful things together that are making Washington State a place where immigrants and refugees can thrive and live without the fear of family separation:
We brought together a movement to work cohesively and with each other through WAISN's inception in 2016
We created WAISN's statewide Deportation Defense Hotline to respond to ICE activity, support community when there is a detention, and share community resources
Together, we have passed ground breaking laws to advance immigrant and refugee rights and stop the detentions
We trained over 1,000 community members on how to protect themselves in the presence of ICE and to know their rights
We built community rapid response teams in 22 counties to mobilize when ICE is at our door
Through our Fair Fight Bond Fund we have bonded almost 100 community members from 25 countries out of detention
In response to a global pandemic, we pivoted our network to create safety nets for immigrants through healthcare and unemployment insurance programs
We secured almost half a billion of dollars in direct aid for our immigrant communities
We have convened our network through regional and statewide gatherings to set the direction of our movement and so much more!
WE ARE POWERFUL, WE ARE RESILIENT, AND WE WON'T STOP!
Why join WAISN as an organizational member?
We are building WAISN's vision of uniting an immigrant-led immigrant justice movement in Washington State to dismantle oppressive systems and ensure a life of abundance for all immigrants. Our membership model will consist of dues-paying member organizations and individuals who are actively involved in immigrant justice and organizing.
To become a member of WAISN, organizations must apply, demonstrate, and pledge to work for the best interest of immigrants through direct services, advocacy, organizing, or through other actions.
We envision WAISN members will collaborate to create a support network of care and rapid response, pierce through elitist political and philanthropic spaces to transform the material realities of immigrants, and build a world where undocumented immigrants have full political and economic rights and access to the resources we need to thrive. 
The WAISN membership model is intentionally structured to center power with immigrant community members and immigrant-led organizations who directly serve impacted community members.
What are the benefits of membership?
WAISN membership creates a space where your organizational superpowers and capacity can both support immigrant justice and receive support from the entire WAISN network. Most importantly, we are building a network where we can continue to center the leadership of impacted community members such as undocumented, Black, Asian, Pacific Islander, Latinx, transgender, queer, and other Global South immigrant communities. 
Joining our network includes:
Access to and guidance from immigrant justice movement-building experts, analysis, and discussions.
Organizing, policy, and advocacy leadership opportunities through WAISN initiatives including Fair Fight Bond Fund, LGBTQIA Coalition, Immigrant Accompaniment, and more.
Ongoing language justice support for your organization, including access to WAISN's interpretation equipment.
Access to critical trainings and statewide gatherings including Deportation Defense, Rapid Response, Know Your Rights, Organizing 101, and more.
Building a professional and personal community and solidarity within a diverse progressive network rooted in WAISN's feminist, decolonial, transnational and intersectional values.
WAISN's Four Organizational Membership Levels
Partner Level- Our broadest level of membership for organizations who are value-aligned, working for immigrant justice, but do not solely focus on immigrant justice.
Level 1– General membership for organizations actively centering and working for immigrant justice.
Level 2- Immigrant-led organizations who directly serve impacted community members. Informs policy priorities as a member of WAISN's Steering Committee, the body in charge of setting network policy and advocacy priorities.
Level 3- Immigrant-led organizations who directly serve impacted community members. Informs policy priorities as a member of WAISN's Steering Committee and commits to leading a table or an initiative.
How much does it cost to join?
Joining WAISN's membership supports our collective efforts to advance an immigrant justice agenda across Washington state. WAISN's Board of Directors adopted a sliding-scale dues model based on organizational budget that organizations will pay into the WAISN Network.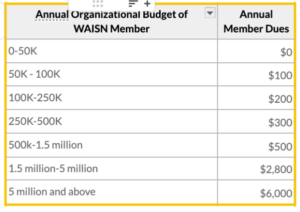 .Our commitment is to maintain a dues structure that resonates with our values — putting community-based organizations at the heart of our work. If dues are an obstacle, fees will be reduced or waived based on demonstrated need. In this manner, WAISN is committed to ensuring that it's about community power, not money.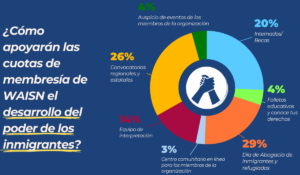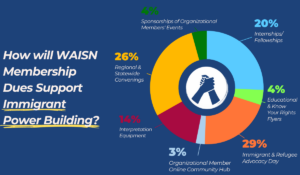 Membership dues will go towards convening, supporting, and informing immigrant power building.
As part of the application process, you will select the applicable dues amount for your community group or organization. Requests for fee reductions or waivers are made as part of the application process. Once your membership has been approved, you will receive an invoice and can pay your dues at that time.
Join us today!

Before filling out our membership application, we ask that you read the following documents and confirm that you are in alignment with our organizational values and membership model:
English:
FOR QUESTIONS ABOUT BECOMING A MEMBER OR TO SIGN UP FOR ONE OF OUR UPCOMING MEMBERSHIP INFO SESSIONS, PLEASE EMAIL MEMBERSHIP@WAISN.ORG