WAISN Deportation Defense Hotline in WA State
(open every day 8 am-6 pm)
The WAISN Hotline offers hope to immigrants through its services available to everyone regardless of gender, race, culture, religion, and sexual orientation. We provide support in many languages, such as Spanish, English, Vietnamese, and many others.
Immigration Services:
Call to report immigration activity in your area.

Report if you/a loved one/acquaintance has been detained by Immigration & Customs Enforcement (ICE) or Customs & Border Protection (CBP).

Accompaniment for an immigration appointment.

If you are seeking bail to get out of immigration detention.

Call to learn about your rights as an immigrant.
Connect with other services, such as:
Help find your local food bank.

Assistance for children 0-5 years old.

To learn about your rights as a worker.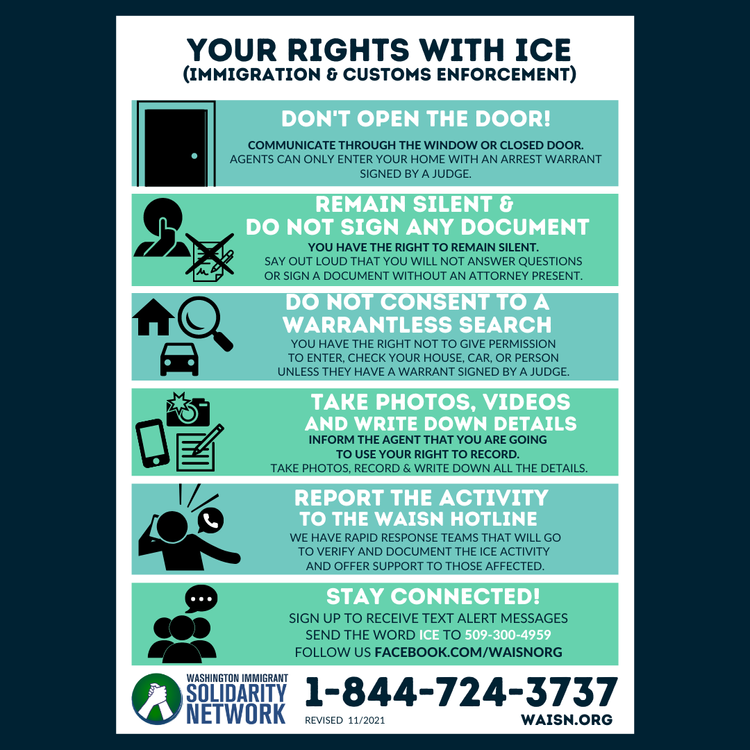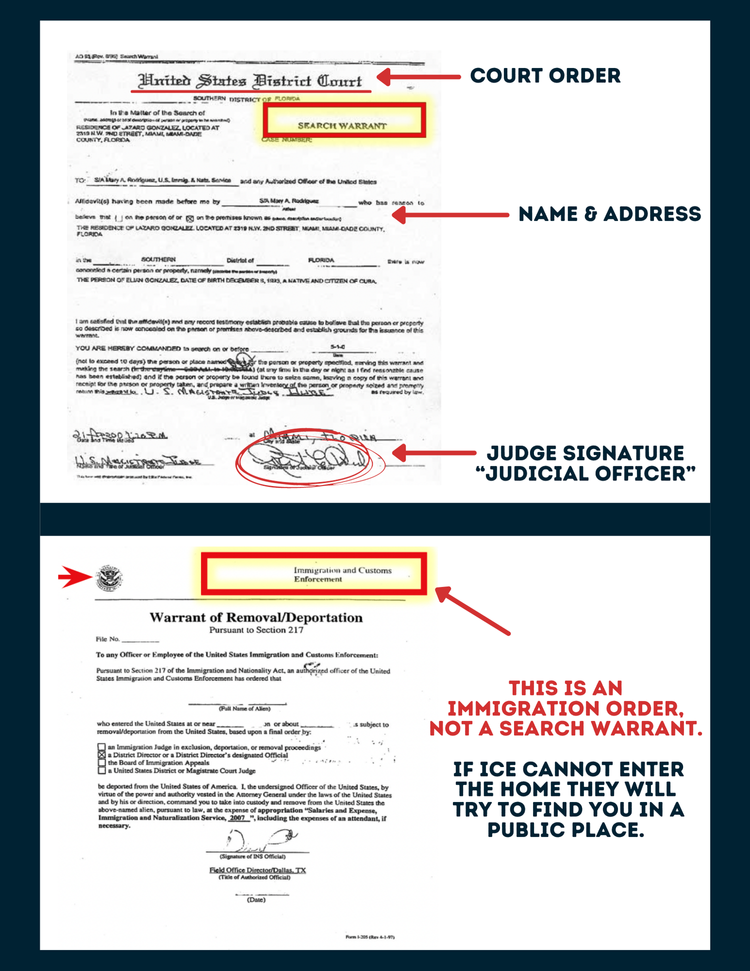 Computer: Right-click on image and select "save" image
COVID-19 Vaccination Know Your Rights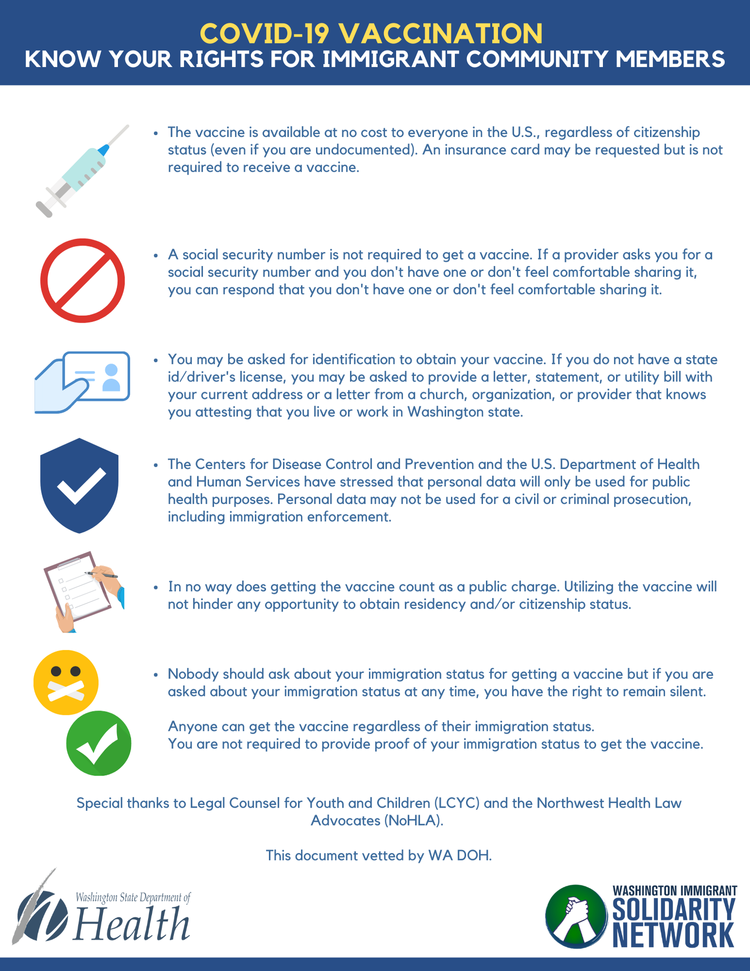 Smartphone: Press and hold on image and select save/download
Computer: Right-click on image and select "save" image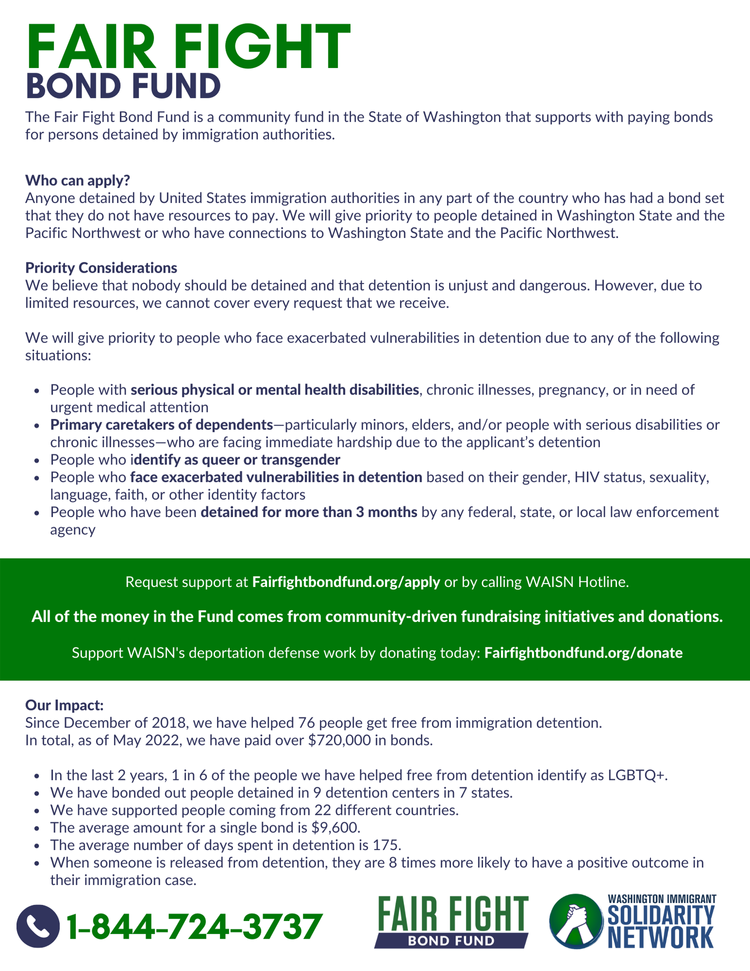 Línea de apoyo para inmigrantes en el estado de Washington
Abierta todos los días 8 AM a 6 PM
La línea de apoyo de WAISN, da esperanza a las personas inmigrantes por medio de los servicios que ofrecemos sin importar de género, raza, cultura, religión y orientación sexual. Ofrecemos asistencia en varios idiomas, por ejemplo, español, inglés, y vietnamita, entre otros.
Servicios de inmigración:
Usted puede reportar si hay actividad de la migra (ICE).

Llame si usted, un ser querido o conocido ha sido detenido por la migra (ICE) o la Patrulla Fronteriza (CBP).

Acompañamiento para una cita de inmigración (audiencia de fianza, o cuando necesite ir a un juzgado).

Fianza para salir de la detención de inmigración o si busca ayuda para pagar su fianza.

Llame para conocer sus derechos como inmigrante.
Conéctese con otros servicios, por ejemplo:
Su banco de comida local.

Asistencia para niños de 0 a 5 años.

Para conocer sobre sus derechos en el trabajo.
Sus derechos con la Migra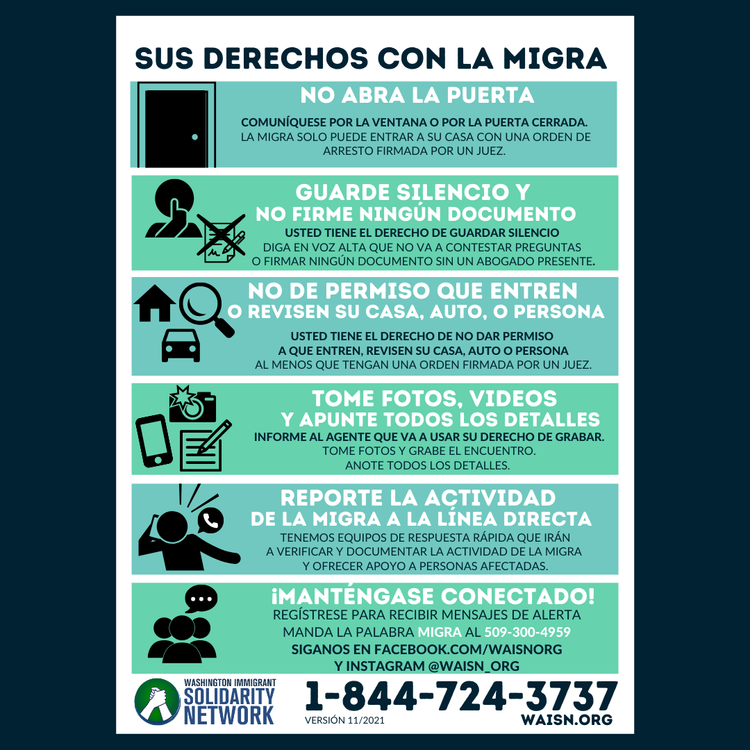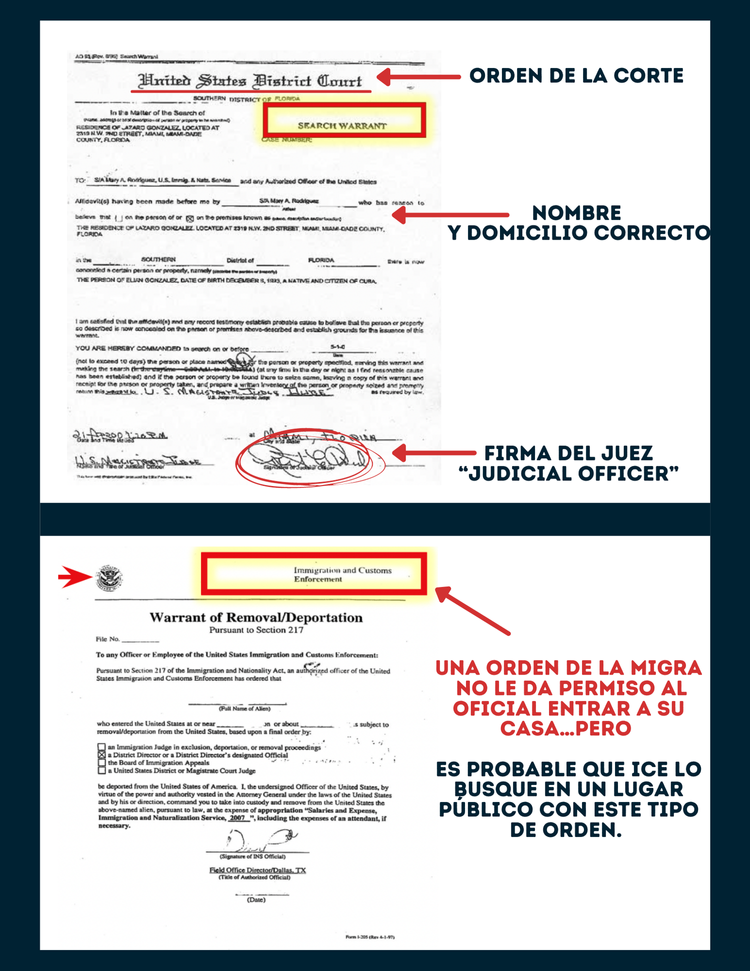 COVID-19 Sus Derechos al Vacunarse